NEW! Arriviture® for Shippers
At JTS, the evolution of technology is always moving forward. It's our commitment to you. Now, we've invested in new, cutting-edge technologies to bring you Arriviture®.
From departure to Arriviture®. Do it all. See it all.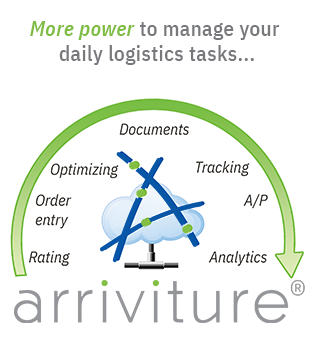 Rating
Get instant rate quotes, comparing vendors on one screen so you can choose the best rate and transit option.
Order Entry & Processing
Process new orders and automatically send them via EDI, API, email or CSV file. Send detailed pick-up directions to the carrier.
Optimizing
Consolidate your partial truckloads into full truckloads.
Documents
Create and print pallet tags and Bill of Lading.
Tracking
Track shipments, filtering by load type and status.
Accounts Payable
View accounts payable data, such as aging, outstanding invoices and proof of delivery documents.
Reporting
Run analytics reports on carrier performance, exceptions, accessorial, expenses, volumes, daily manifest, freight class and other key metrics. Export them to Excel or PDF format.
More power to manage your freight – any time, any place, at any point in the shipment cycle.
Powered by MacroPoint®, project 44®, SMC3®, CLOUDFLARE®, Atmosera®, PCMiler®, DAT® and Microsoft® Azure™, Arriviture® has more feature-rich muscle to take on the heavy lifting of your daily logistics tasks.
Arriviture® technology is designed for speed, efficiency and transparency to provide real-time updates on your LTL, Truckload and Rail Intermodal freight progress, plus tracking for your International shipments.
Arriviture® lets you manage your freight throughout the entire logistics process from start to finish, in one, easy-to-use location in the Cloud. You have more visibility, a more personalized experience, increased service levels and more time savings!
Full service, full value.
As a value-added benefit to partnering with JTS, you can leverage the power of Arriviture® at no cost. We can also customize it to work with your systems. Thorough testing is done on all our systems on a regular basis to ensure business continuity. You can rest assured you won't have any major disruptions in service in the event of a natural disaster or internet outage.
To start using all the Arriviture® features now, login here. If you are a customer and don't have an account yet, register here.