Media Awards
JTS Awarded Better Business Bureau Ethical Leadership Award
View press release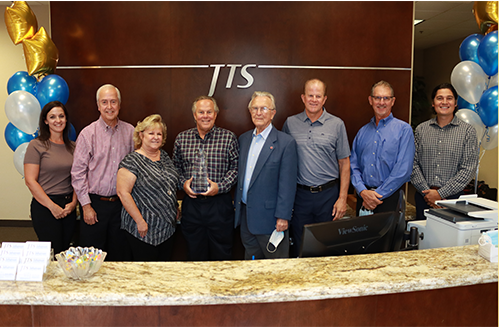 2013 Better Business Bureau (BBB) Ethics Award for Marketplace Excellence
View press release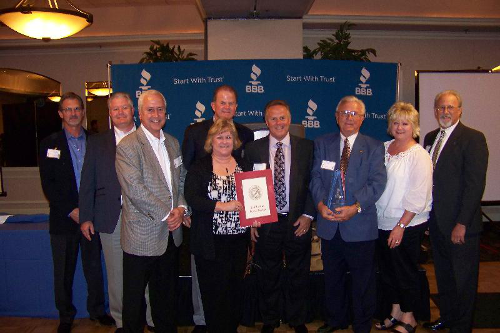 2011 California Family Business Award
View press release
Industry Recognition
Since 1979 JTS has been designated as a Transportation Member and has a ''Four X'' rating with Blue Book Services, a provider of business and marketing information for the international wholesale fresh fruit and vegetable industry and its trading partners since 1901. This is the highest rating possible.
JTS also has a $3 million credit score with Blue Book Credit Services. The Transportation Membership is an honor service, representing certification by Blue Book Services, and is available only to the best firms in the industry. Transportation Members represent an elite group of reputable, conscientious and honest companies who have a strong financial position and fair trading policies.

JTS won CargoNet's Best in Cargo Security Award (Mid-Size Broker Category) for their 2018 prevention efforts. This is the second time JTS has received this honor. In 2017, CargoNet awarded JTS Best in Cargo Security Award for 2016 in the Small Broker category.
Considerations for the award include factors such as: a willingness to commit resources to security; standard operating procedures and best practices; and, the scope of utilization and support for the CargoNet program.
A CargoNet member since 2013, JTS has been using the CargoNet program to educate shippers and carriers about possible risks that have been identified as significantly important to their primary logistics and shipping activities. JTS has integrated the CargoNet program into our daily carrier relations operations to the fullest extent possible to safeguard our customers' freight and stay informed about potential threats in the marketplace.
CargoNet helps transportation companies, shippers, and other supply chain stakeholders prevent cargo theft and improve recovery rates through secure and controlled information-sharing among theft victims, their business partners, and law enforcement. Leveraging a national database managed by crime analysts and subject-matter experts, CargoNet provides intelligence-gathering tools, tips, procedural recommendations, training and analytics.

JTS is certified as a SmartWay® Transport Partner. This certification exemplifies that JTS is committed to promoting energy efficiency and better air quality within the transportation industry. By encouraging carriers to become SmartWay partners, we assist them in making better, more responsible choices for their businesses and for the environment. By using SmartWay carriers, we provide a valuable service to our shippers by enabling them to move more of their freight with SmartWay carriers, thereby reducing their environmental footprint.
When carriers become SmartWay partners, they acquire tangible tools to improve business operations and make a positive difference for the environment. Carriers have access to tools that will help them achieve business goals through this EPA-supported program.

The SmartWay® Program is a public-private initiative to reduce greenhouse gas emissions and air pollution created by freight transportation in corporate supply chains.
SmartWay helps companies that ship goods, and the companies that carry those goods, improve efficiency by measuring, benchmarking and streamlining freight supply chain operations.
SmartWay aims to accelerate the availability, adoption and market penetration of advanced fuel efficient technologies and operational practices in the freight supply chain, while helping companies save fuel, lower costs and reduce adverse environmental impacts. EPA helps SmartWay Partners move more goods, more miles with lower emissions and less energy.
As Best Broker designated, JTS has qualified or exceeded the strict qualifications to be considered a Best Broker Affiliate with a Certificate of Associate Membership. NASTC is dedicated to leveling the playing field by helping small trucking companies control their costs through managed purchasing, analysis, consultation and advocacy, allowing our member companies to grow, prosper and remain a significant force in the transportation industry.

JTS is PERFORMANCE CERTIFIED by the Transportation Intermediaries Association, indicating JTS' commitment to the most professional industry standards and participation in TIA's guaranteed payment program.

JTS is a participating member of Internet Truckstop Diamond Broker Program, meeting or exceeding all performance, credit and bonding requirements of Internet Truckstop. The 4-Diamond Rating is the highest level of surety possible.